I was introduced to Paint.NET following the recent 3.0 release. Rather than try to compete with the likes of PhotoShop or Gimp, this open source program nails the "basics" with an interface whose simplicity belies it's strength.
Apparently conceived as an undergrad design project "intended as a free replacement for the MS Paint software that comes with Windows", it now seems strange to put Paint.NET in the same sentence. When I say "basics", not only can this editor crop, resize, and rotate – it supports layers, unlimited undo/redo, alpha channels, magic wand selection, rubber stamping, and curves. These features are only the beginning, and they already cover the needs of most users.
The interface is incredibly straightforward. Unlike the overwhelming array of PhotoShop palettes, or Gimp's less-than-friendly interface, Paint.NET does a great job of masking complexity:
Open images appear as thumbnails in the top right corner of the window.
Images fit to window by default, reducing the need to manually zoom in and out.
Toolbars become translucent when they cover part of an image.
The status bar indicates mouse behavior and keyboard modifiers for the selected tool.
The following screenshot illustrates these features: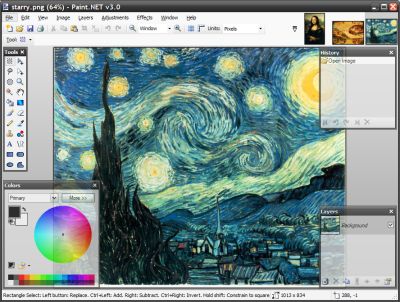 As an added perk, confirmation dialogues have expanded their vocabulary beyond Yes/No/Cancel, making it easier to select your intended action: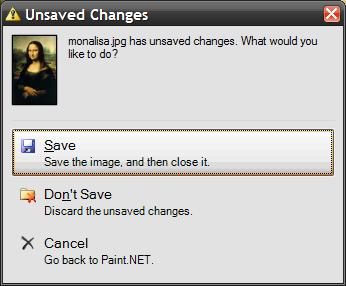 Given the intended market it is difficult to find a downside to Paint.NET. It does not support text layers, adjustment layers, channels, or vector layers. I could easily rattle off more "missing" features that the typical user won't miss. I'm thankful that the 3.0 release brought Paint.NET to my attention — when a user serendipitously lamented the loss of Microsoft Image Editor I was able to point him to a better alternative.