I've had a Gmail account since September 2004, when invitations were fewer and farther between, but I never saw much benefit to an additional web mail service. Hotmail was sufficient (predominantly via hotwayd). I was also skeptical about Gmail's copious storage space and it's marketing implications. But today, as I consider a new ISP and primary email address, I see Gmail's advantages vs. Hotmail.
Universal Access: POP3 / SMTP
Call me old-fasioned, but I like the option of using a traditional desktop client. Advantages include offline use, no ads, trained spam filters, and a choice of UI and feature set. Hotmail requires 3rd party software to enable use with traditional clients. Gmail, on the other hand, offers free SSL-secured POP3 and SMTP access. This means that you can use any client you want – Thunderbird, Outlook, Eudora, …. Gmail even allows you to choose between deleting or archiving items accessed with POP3. The former offers increased privacy while the latter allows you to retain web access.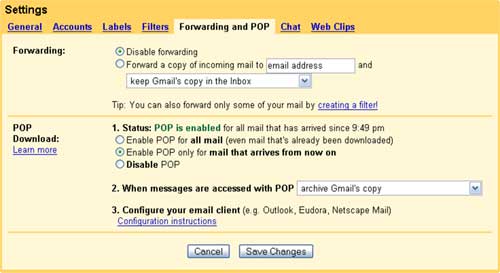 Organization: Tags, Conversations, Searching
Where Hotmail offers only circa 1980 flat "Inbox" access, Gmail is Web2.0-compliant, replete with AJAX, tags, and "viral" invitation-only marketing. For the uninitiated, tags are arbitrary labels that can be applied to messages. One might label an e-mail both political and humorous, for instance. Gmail calls these "labels", and this feature offers easy views to any category (e.g. all humorous e-mail, registration e-mail, etc).
Conversations are Gmail's term for threading, a feature that lists related e-mail on a single page, regardless of the date. This makes it easier to view a collection of related correspondence in it's entirety.
Of course it's no surprise that the Google service offers flexible searching and filtering. Available search and filtering features compete favorably with desktop clients.
Combined with over 2GB of archival storage, this unprecedented level of access is a compelling reason to archive e-mail on the server rather than deleting it.
Bottom Line
Even if you are satisfied with HotMail, or your ISP's mail features, I recommend giving Gmail a try. Google's approach is more accomodating than Microsoft's HotMail, which offers less free storage, and does not provide convenient POP3/IMAP access. Gmail's solid web interface, combined with the option to use a full client, have me hooked.
Tags: mail